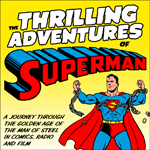 Like hearing Mike and Mike talk about comics? Well, you're in luck! Because Michael Kaiser joined Michael Bradley for an awesome episode of The Thrilling Adventures of Superman, where they talked about some great comics starring the other half of the World's Finest heroes!
The adventures begin with ACTION COMICS #13 where Superman unravels the mystery of a taxi cab racket and finds something — or someone — far more sinister is behind it: The wheelchair-bound madman known as the Ultra-Humanite! They then move on to the historic SUPERMAN #1, which unveils never-before-told details about Superman's origin, his first prose story, our hero's very own fan club and more! They then wrap things up with ACTION COMICS #14, where Superman investigates a suspicious subway collapse and faces off against a strangely familiar foe with a thirst for world domination!
Click here to see the post at GreatKrypton.com, the site's home base, download the episode or subscribe to the show.